The famous Robert Frost poem is actually about a wall not being needed in that particular context, but it repeats a well known phrase in use for centuries. The vision of two landowners working opposite sides of a drystone wall seems rather obsolete from a modern point of view, and I can't imagine it ever happening in this part of the world. Unlike the regular characteristics of a wall in a limestone area the stone walls in this region were created, with considerable skill, from a most irregular assortment of boulders lying at random in the boulder clay covering most hillsides (which includes glacial erratics from Scandinavia as well as local slate and granite), and would have been very labour intensive. The skills still linger on, and are used occasionally to repair wall or create walls at the roadside, such as this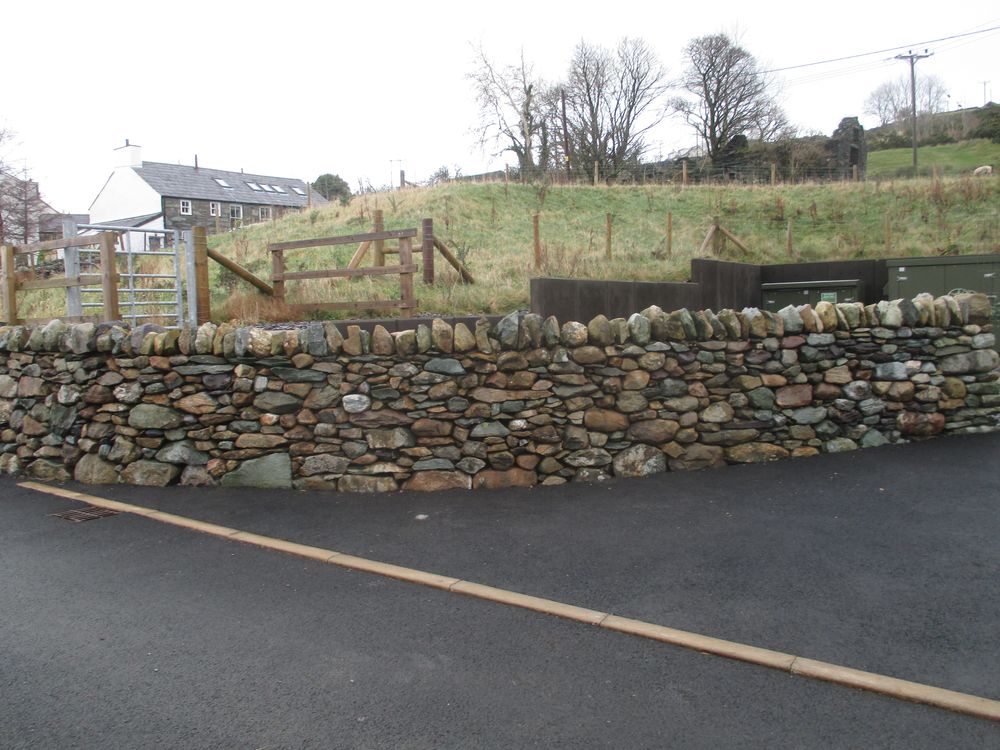 at a recently completed sewage plant in Dinorwig. A close up view would show that this is not truly drystone, because concrete has been discreetly applied to provide more durability. Most of the original walls here are in various stages of collapse, and the universal way of providing boundaries now is the cheap and cheerful system of post and wire, which is efficient in the short term but starts falling apart within 15 to 30 years, at which point it becomes an eyesore. The posts will eventually rot away, but the wire, including the common addition of a razorwire topping, does not of course. Even the mountain tops round here are littered with the remains of fences put up thirty odd years ago, I think there might have been grants for doing it in those days, so you have this at the top of Foel Gras (Geograph 226145)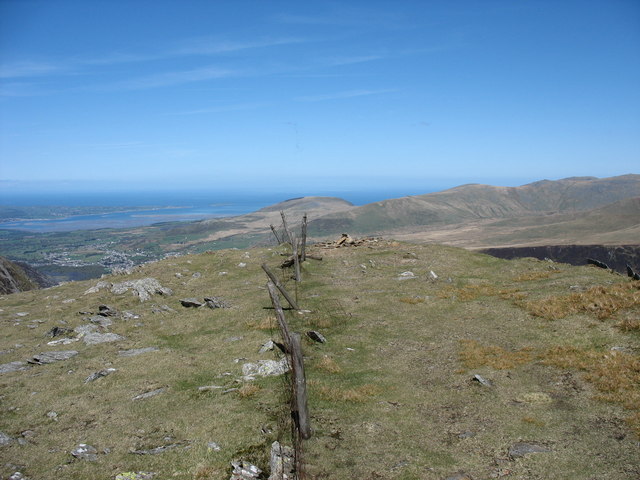 and various other summits.
Within a few hundred metres of my home there are examples of fencing that is now past its useability date: none of them are likely to be repaired.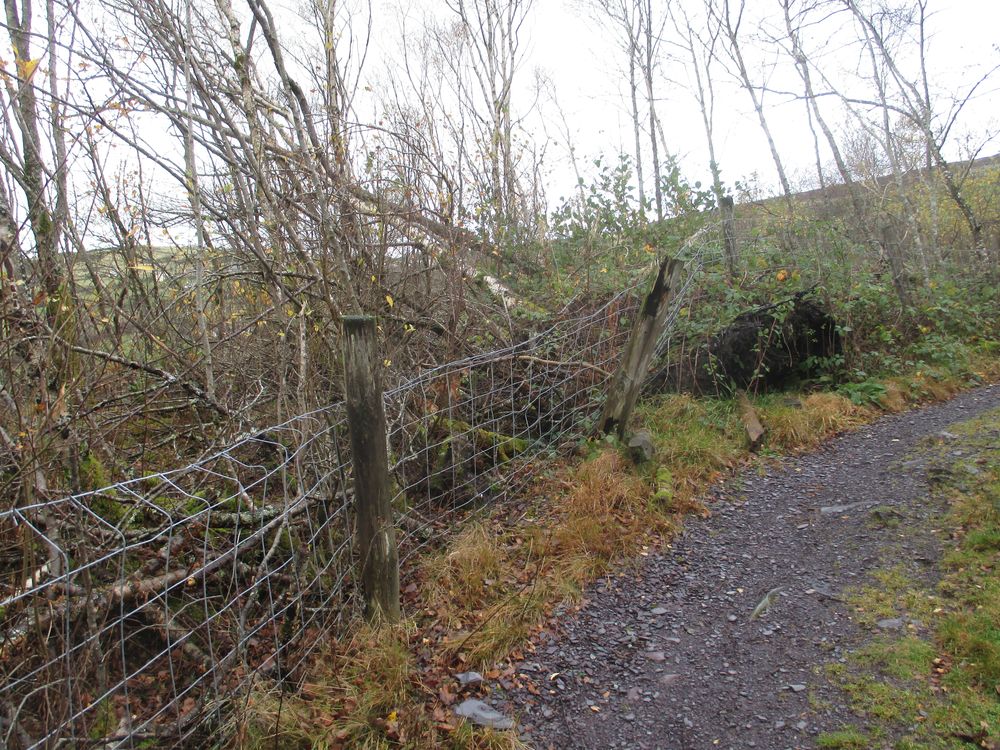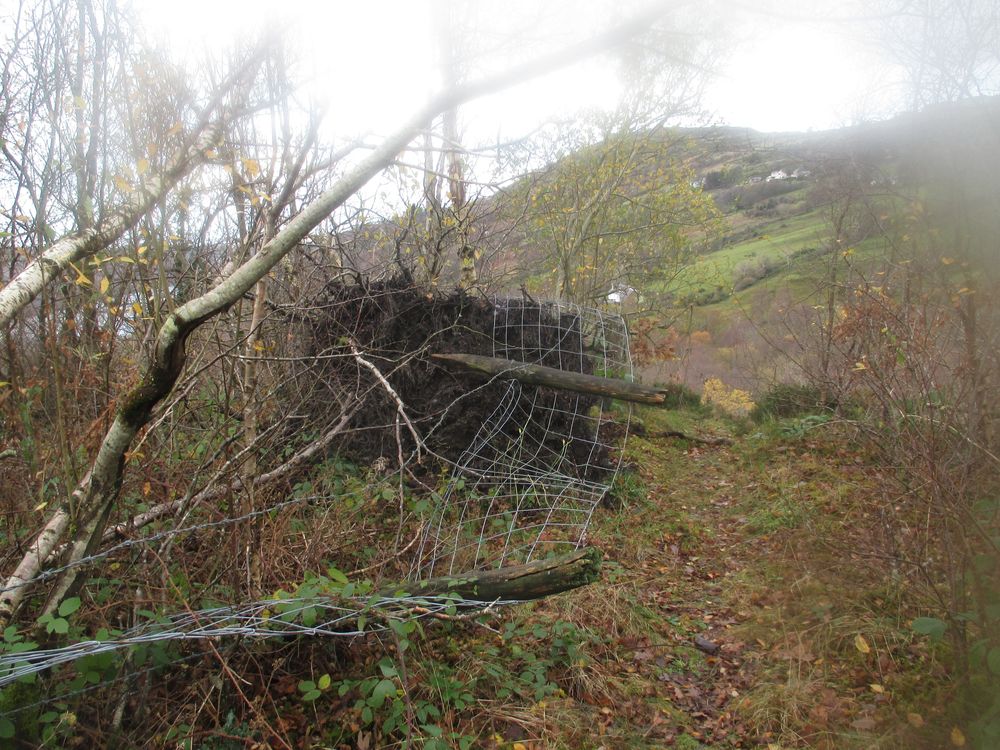 Increasing amounts of this upland land are not so much being rewilded as abandoned. One organization going against the trend is the National Trust, who own Snowdon and much of the surrounding land. The stone walls on their tenanted land in Nant Gwynant are scrupulously maintained, much to the frustration of course of those of us who have lost our way and can't cross the walls in our path. Some years ago I had to use a sheep creep like this to crawl through such a wall. This particular photo comes from Dartmoor.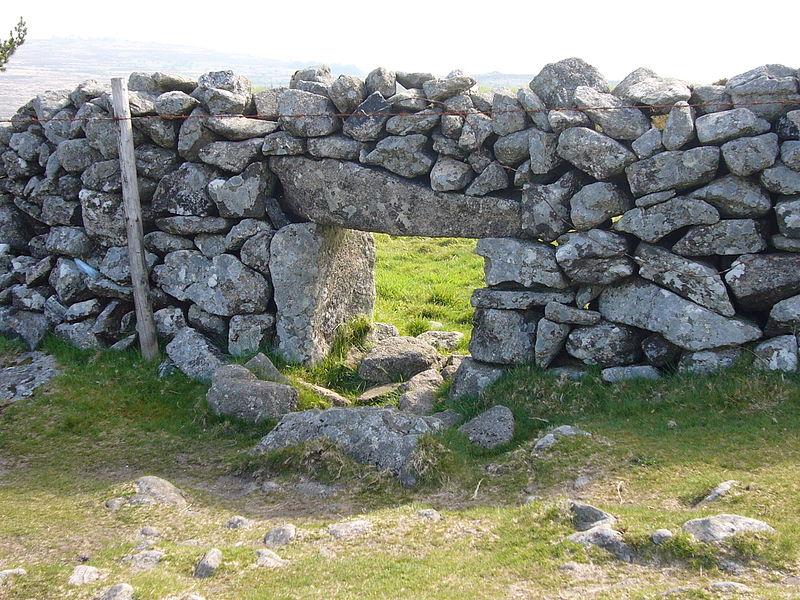 The Trust's tenant farm at Blaen y Nant in Nant Ffrancon near Bethesda has also been the venue for annual walling competitions, as referred to
https://thinking-stoneman.blogspot.com/2018/01/sean-adcocks-continuing-walling-project.html
https://www.thefreelibrary.com/Dry+stone+wallers+battle+to+do+Snowdonia+proud.-a0119896331
There is a third variation known in North Wales as cloddiau http://www.dry-stone.co.uk/Pages/Books/Articles/Cloddiau1.html which combines a stone base with an earth centre topped with a hedge, quite common in the lower land between Bangor and Caernarfon where the supply of stone is not so easy.
Unfortunately these efforts, like footpath maintenance, are becoming a drop in an ocean of neglect.