Varied the routine this time. After walking down the conventional way, I caught the bus for the first time in months, got off at Nant Peris and walked back up through the fields and quarry to home. The bus was busy because of walkers going to the top of the Pass to climb Snowdon, and a little bit intimidating for that reason.
You then follow the footpath mentioned in my article on the Fachwen estate as a possible old route from Llanberis pass to the Menai Strait. There is a section of the path where an iron bridge has collapsed, and there are council notices telling walkers a to cross the stream at their own risk or "seek an alternative route". There are alternative rights of way on the map, but as so often happens nowadays, none of them can be found on the ground
It's a very pleasant climb up through the fields, with a succession of shallow steps built by the quarrymen from Nant Peris getting to work until you get to the Dinorwic quarry boundary, where there is a cast iron gate of the type frequently deployed in the nineteenth century by the Vaynol estate where footpaths cross a wall or boundary. As you can see, it now boasts a danger sign because as it climbs up the tips, loose slate has slowly encroached upon the path. It's still useable at the moment, but sadly I doubt whether it will be for much longer.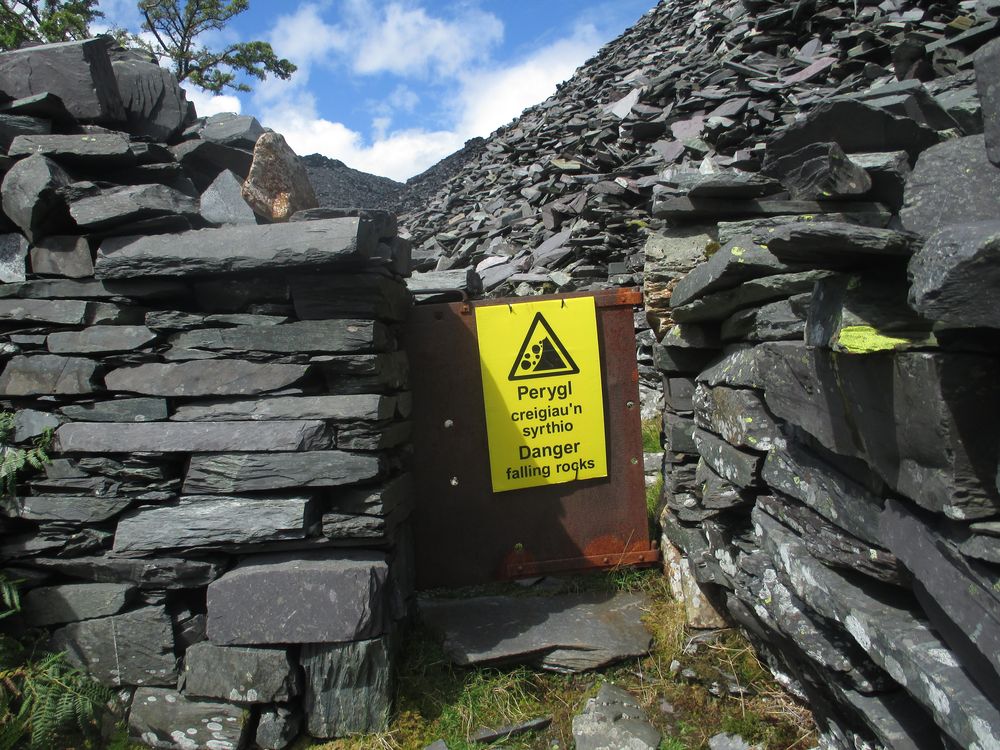 After that you pass through the quarry pretty much from end to end, by passing through "Watford Gap".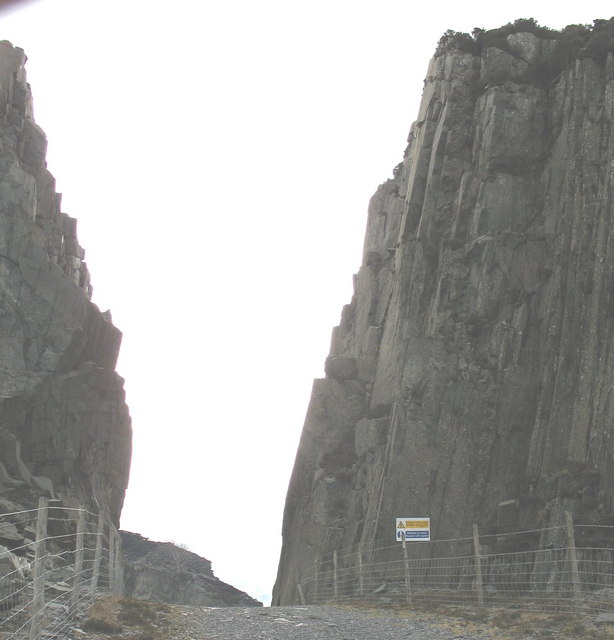 That this is an old route is evidenced by the fact that a sketch of the quarry made in 1836 shows the horse drawn tramroad from Dinorwic to Moel y Don passing through this to reach the far incline no 3. This still exists but is in a potentially dangerous state, as it is made entirely of unmortared slate blocks which are now sagging dangerously. Notwithstanding this walkers still use it to get up onto the flank of Elidyr Fawr .
A few days later on 26th August we were hit by Storm Francis. The damage here was not as widespread as in many other parts of the UK, but there was a phenomenal amount of rain, 102mm (4 inches in 24 hours), in Dinorwig this shows itself as flash flooding albeit of a minor nature. It leaves water flowing down footpaths leaving them in a rather sorry state, but there's no point in relying on landowners or the council to clear them up, they have more important issues to deal with, so we deal with the problem as best we can.