Historical notes on Fachwen
These notes refer to an eighteenth century estate called Fachwen and owned by Lord Newborough, an extension to it to the north and east when common land was enclosed in 1814, and its absorption into the Vaynol estate by purchase in 1840. It is located on the eastern side of Llyn Padarn opposite Llanberis, in North Wales. The Newborough estate, sometimes known as Glynllifon, the name of Lord Newborough's residence, also owned most of the land around and above Llanberis on which quarries such as Glynrhonwy were extensively developed in the nineteenth century.
References:
Collation of information obtained from an examination of Gwynedd archives in April and May 2003, together with an examination of 19th C Ordnance Survey maps, and some research in the field.
1797 = Evans J – Map of North Wales (ca 1797)
1818 = Ordnance survey drawing 2in/mile in British Library cat no 306. Available on line.
1840 = Ordnance survey 1in/mile 1st ed available as sheet 170 at www.visionofbritain.org.uk,
specifically https://visionofbritain.org.uk/maps/series?xCenter=3093196&yCenter=3007352&scale=63360&viewScale=11338.5888&mapLayer=nineteenth&subLayer=first_edition&title=Ordnance Survey and Ordnance Survey of Scotland First Series&download=true
1891 = Ordnance Survey 6in/mile 1st edition 1891.
B = James Bransby – A description of Llanberis & the Snowdon district (1845) (Caernarfon public library)
L = John Leyland, Itinerary in Wales 1536-1539, as ed L T Smith 1906 p79 (Caernarfon public library 914.2964.52)
DinD = Douglas Carrington – Delving in Dinorwig 1994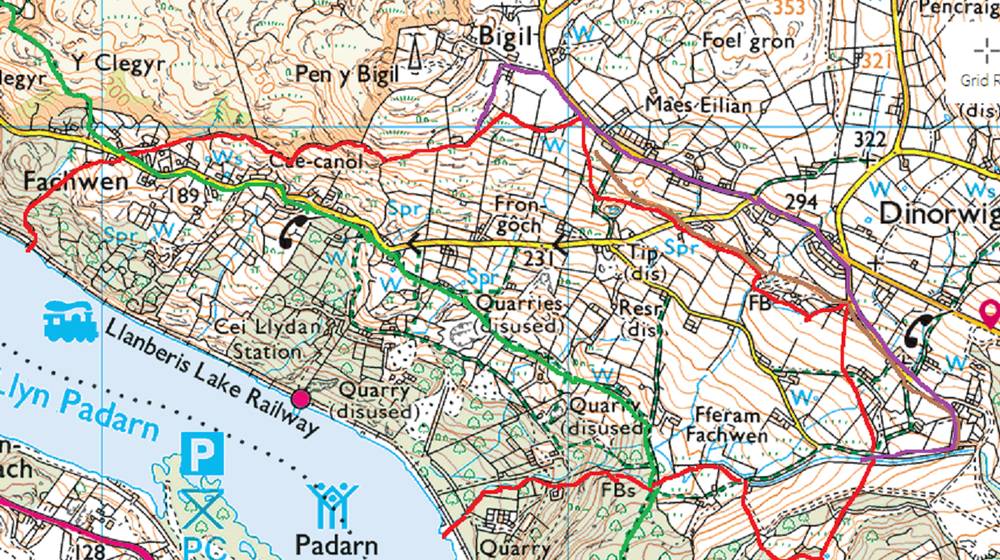 Land
The approximate boundary of the original Fachwen estate is shown in red, information derived lfrom the enclosure award of 1814 and tithe map of 1840. It was originally about 240 acres. There are still walls in some places, but in others there is no trace now on the ground. The purple line surrounds the addition of 60 acres made to the estate by the 1814 enclosure award. Ruined remnant (original northern boundary) illustrated.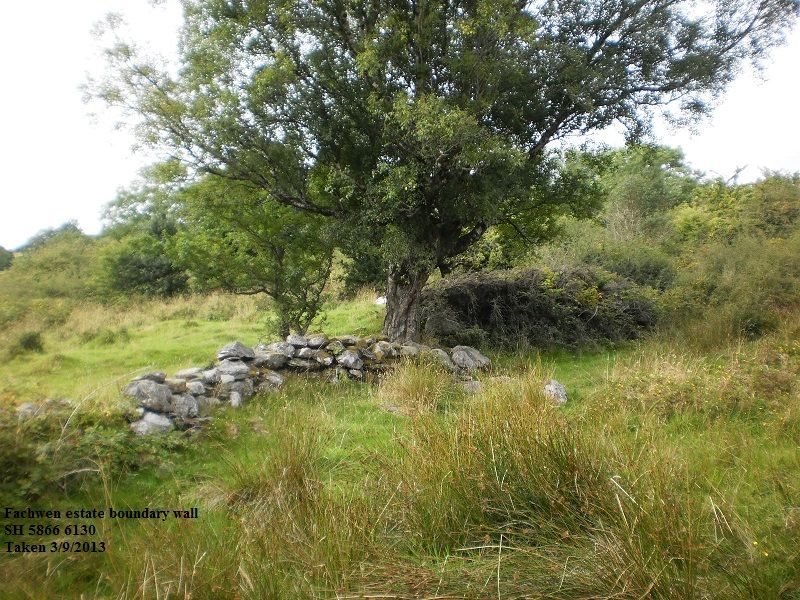 Packhorse trail described below at "Allt Wen" is marked in green
Packhorse trail described below at "Lon Capel" is marked in brown.
The earliest reference in Gwynedd archives shows that in 1763 the "messuages, tenements and lands called Fachwen, pa.[rish] Llanddeiniolen" pass into the ownership of the Glynllifon estate (subsequently Lord Newborough) for £4089. The 1840 tithemap of Llanddeiniolen shows the whole estate boundary in its pre 1814 form. Some of it also appears in a Vaynol estate plan of 1777. The Llanddeiniolen enclosure award of 1814, increases its size on the northern side by 102 acres.
Communications
Getting slate to market was a major issue for any quarry operation. The Vaynol estate had commissioned a "cart road" built in 1812, which is the present main road up to Dinorwig. It is therefore shown on the 1814 enclosure award and the 1818 OS drawing. It has a semi circular diversion at Chwarel Fawr (eliminated by the 1980s landscaping) which shows that that quarry must have been large even then.
Later the upper part of this road became also the line of the 1824 Dinorwig Railway, a horse drawn tramroad which ran down to Clwt y Bont on a double incline, still in existence although rather overgown, and then across the coastal plain to Nant y Garth and another incline down to Port Dinorwic. (DinD ch3). It is shown on the OS map of 1840 although very little now remains.
In 1836 (DinD ch5) James Spooner, a surveyor who had already designed and built the Ffestiniog Railway (see http://en.wikipedia.org/wiki/The_Spooners_of_Porthmadog) was commissioned by Thomas Ashheton Smith to survey a new route from his quarries to Port Dinorwic. The survey survives at Gwynedd archives Vaynol 7142. This was for a railway halfway up Allt Wen and contouring round the hills in the same general line as the packhorse trail and eventually coming out, like the existing road and horse drawn tramway, at the top of Port Dinorwic. A length of it at the quarry end was built and still exists. But to go any further would entail crossing Lord Newborough's Fachwen estate, and Edwin Shelton (see below) objected to the surveyors trespassing on his concession.
Eventually, after lengthy negotiations Thomas Assheton Smith buys the estate of 300 acres on 29th June 1840 for £13500, around £1 million at today's prices. At £45 an acre this seems a high price, reflecting presumably the premium he was willing to pay for getting access to land for the railway to Port Dinorwic – during the negotiations TAS describes it as "a rocky small farm, which he (ie Lord Newborough) cannot even let in parts to the quarrymen. The rental value when the estate passed to Vaynol was £188 (Vaynol 1735). Within three years the railway to Port Dinorwic is opened through the estate along the lakeside, being horsedrawn initially (B 1845 p17). Subsequently the waste tips of Bonc or Domen Fawr (that is, what is now the open landscaped area of the country park) were extended across the old Fachwen boundary, according to local tradition burying a Plas Fachwen farm – see below. After 1846 one has to rely on incomplete Vaynol records, however they do show that apart from the railway another reason for purchase was to lease plots to allow quarrymen to build cottages (Vaynol 1735 especially, and the 1869 survey at Vaynol 4194), and T A Smith wasted no time in implementing this policy, in 1843 (XD2/ 20407) an agent of Lord Newborough's comments "if Fachwen was let since 5 years ago to build houses, how could TAS get the good opportunity he has now, to let houses to his quarrymen", and B 1845 p17, "on the mountains around has risen up…a number of neat cottages with plots of ground attached to them, from one to five acres in extent. For this measure… It appears to have been Vaynol policy to settle workers on the land in relative isolation from each other, rather than in village clusters, to avoid attracting public houses, and also to discourage union activity.
The name "Fachwen" continued to be attached to this area around the present Fferam Fachwen, as shown in OS 6" 1st edition of 1890, and subsequently. It persisted through to the dissolution of the Vaynol estate in 1967, Ty Newydd still being described as located in Fachwen in 1972 (conveyance in possession of author). In everyday usage the name has now migrated to Lon Fachwen a few hundred metres to the north and its scattering of C19th houses.
Roads
Lon Fachwen
In 1824 following several years negotiations (XD2/6619) Thomas Assheton Smith (ie Vaynol) makes an exchange with Lord Newborough. TAS as owner exchanges "a parcel of land, 1540 yds by 8 yds., area 2 acres 2r. 0p., for the construction of a road from Fachwen to Penyllyn" against "a parcel of land, area 3 acres 0r. 10p., pa.[rish]. Mutual consideration of 10s". This leads to the construction of the lower part of Lon Fachwen, thereby allowing Lord Newborough or his lessees to develop quarrying on his estate with a more efficient transport exit than the packhorse trail. From the plan it is clear that the preexisting boundary of his estate ran from the upper part of the land allocated for the road, straight down to the lake, as a stone wall in the wood still does. The new road would give him access to what was at the time a quay at Penllyn at the lakeside. The piece of land sold dovetails neatly into the point by the 30 sign at 5700 6195 where the packhorse trail referred to below now leaves the road as a footpath to go over Clegyr. It is clear from the plan that the land Lord Newborough ceded in exchange is part of 138 and 139 from the enclosure award, pasture just W of the main road in the area of Bigil. There is no further reference to roads, but the Spooner survey already referred to (Vaynol 7142) shows the present Fachwen lane as it is now.
At Penllyn itself, Lord Newborough paid for the construction of the present road bridge in 1825, and also the section corresponding for the most part to the present main road into Llanberis. The accounts book survives as XD2/ 13158. In 1838 T A Smith took over the maintenance of the bridge (XD2/ 13161), the papers showing that no tolls were ever charged for its use – although the road to Llanberis itself had become part of the turnpike from Caernarfon to Pen y Gwryd by 1831.
Early routes
There appear to be two, possibly three, pre industrial revolution routes. "Roads" would be an optimistic description, since they were not wide enough for wheeled traffic, they would have been packhorse trails traces of which can still be found all over Gwynedd, and sledges were known to have been used as well.
Allt Wen
This appears to start on the "drag road" later called "doctor's road" (DinD) at SH58426072. There are no signs of it now further down the hill beyond this, which suggests either that it originally started there, and therefore was built after the drag road; or that it zigzagged W and then SE at that point onto the same line. The rest of the route strongly suggests it is older than the eighteenth century. It would appear to correspond with the road marked on the map of 1797 from the vicinity of Castell Dolbadarn as far as Fachwen, since there are no alternative routes discernible on the hillside. It ascends Allt Wen as a terraceway, now part of the green waymarked route laid out by the country park, and has become slightly hollowed in the exposed slate bedrock at SH58376078 where it briefly turns into the dip of the slope before resuming as a terraceway. At SH58316084 it is joined by the path that comes down from the truncated Spooner railroad works (DinD), and continues up through a disused gateway at SH58126104 before rounding the hill and descending slightly to SH58226094. At this point it now forms the top of the dam which terminated Llyn Pen yr Allt, which was a trout lake created by the Vaynol estate, and shown on later nineteenth century maps.. Further on the dam has been breached, according to local tradition by a flood in 1948. It passes Cae Goronwy at SH58176137, where its status as a right of way has been unsuccessfully disputed in the recent past, and continues on to SH57626174 where it has been blocked: the original track can be seen going straight on under a stone wall, and is still shown as a right of way on the OS maps. At this point it joins what is now Lon Fachwen, although there is a slight suggestion from field boundaries and off road houses that it might originally have run a few metres further down the hill. At SH57006195 it parts with the modern lane and climbs the hillside of Coed y Clegyr some way before descending by a zigzag past the old farmstead of Bron y Gadair, then Plas Tirion (a major embankment here). Past the still occupied Rhydau Duon it may be significant that it retains the status of a bridleroad, and so comes down to Brynrefail. There is then a continuous narrow public lane leading across undulating ground past the Iron Age hillfort of Dinas Dinorwig, through the hamlet of Llanddeiniolen itself and finally descending the hillside very steeply to reach Felinheli, alias Port Dinorwic alias Moel y Don, depending on the use to which this strait side terminal is put – this was a major crossing to Anglesey even in Roman times. In effect this route creates a link from Pen y Pass/Dolbadarn Castle to the Anglesey crossing, which suggests an original use long before quarrying became the driving force for communications.
Lon Capel
This road appears on 1816, and a section of it on the 1814 plan. I would suggest this was originally a continuation of another packhorse trail that came down Llanberis Pass and then climbs from Nant Peris as a public footpath up through the tips at the south eastern end of the Dinorwic Quarry complex and then through the quarry out to the bus terminus. The fact that it has been preserved and remade through the quarrying and tipping processes strongly suggests that as a right of way it predated the quarry altogether. In the quarry itself only the general line has been preserved, but when we reach the enclosure plan it is shown following the present Lon Capel, but instead of turning N at an angle past the modern playground, it carries on just to the north of Ysgubor, where it is a terraceway, and on the other side of Lon Fachwen appears again as a hollow way (still marked on modern OS as a "path" although never used) below the old quarry of Frondirion. There is no further trace, except perhaps for a terraceway by Graig Lywd, SH58706235.
Quarries
PRN references are to the Archwilio archaeological database at https://www.archwilio.org.uk/arch/
There are six quarry sites recorded within the estate.
Two of these, Boundary SH57506140 PRN20078 (that is the boundary between old Fachwen and Vaynol land) by Cei Llydan station on the modern lakeside railway and 20079 Ladas at SH578610 (no archaeology record) were started after the Vaynol acquisition and there is little to be seen, and no public access.
The remainder are
Vaynol (originally Fachwen) SH57856155 PRN20080 is the only quarry which was definitely worked after 1840. DinD p60 illustrates that it was much expanded in the late C19th and it is still active on OS map 1914 1:10560. This is because it was the only quarry on the estate which was capable of accommodating an incline down to the lakeside railway after the Vaynol acquisition.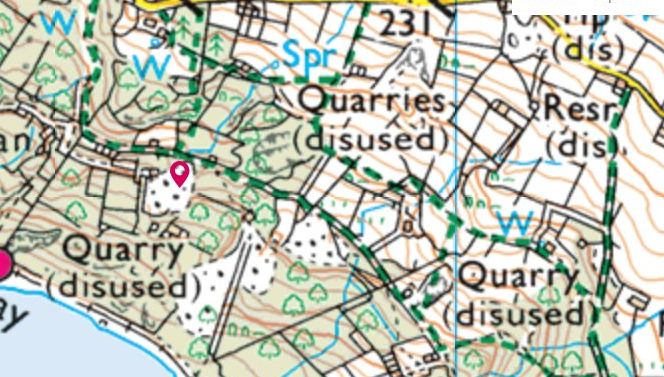 Chwarel Isaf SH57896140 (no archaeology record) "old quarry" 1914 1:10560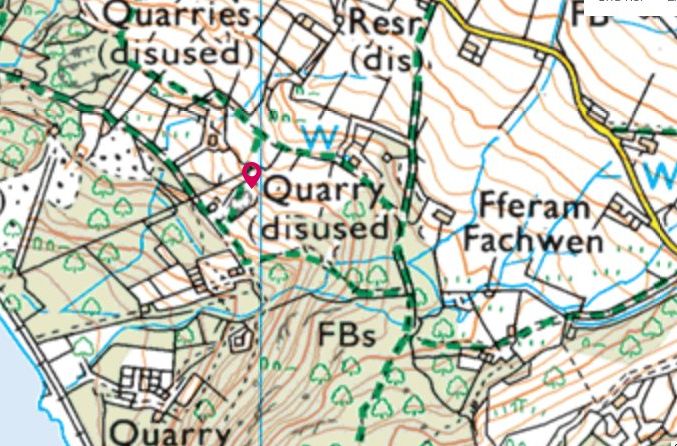 Fronhyfryd SH57906170 PRN20082 "old quarry" 1889 1:2500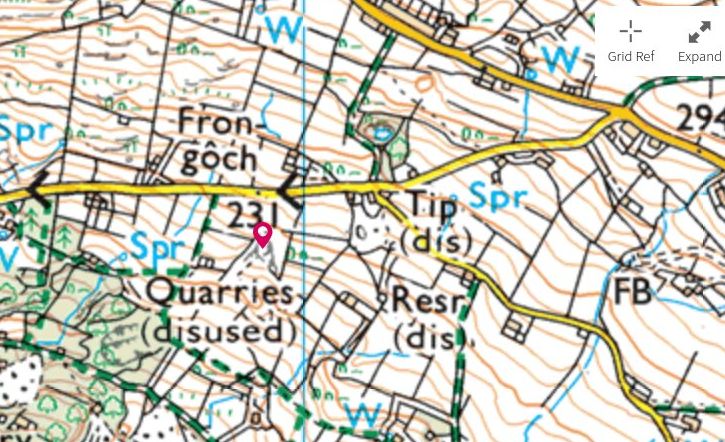 Chwarel Goch SH58106181 PRN20083 apparently inactive 1889 1:2500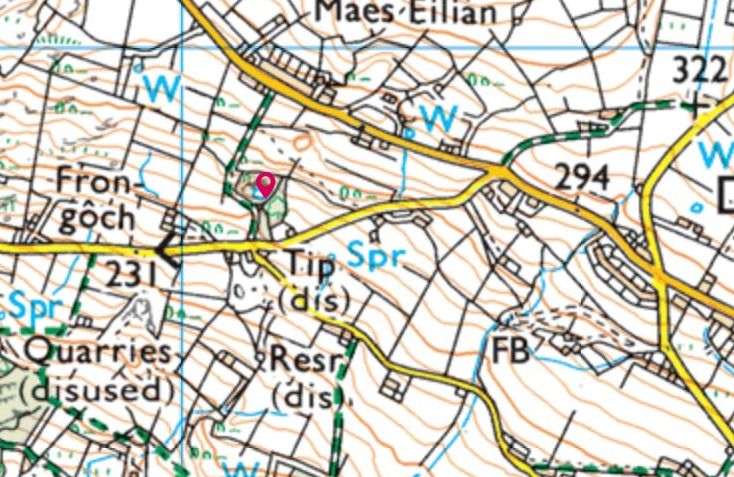 Lloc SH58206190 PRN20085 . This last falls within the addition to the estate from the enclosure award, it looks on the ground as if there was a "drag" going up to the main road/tramway.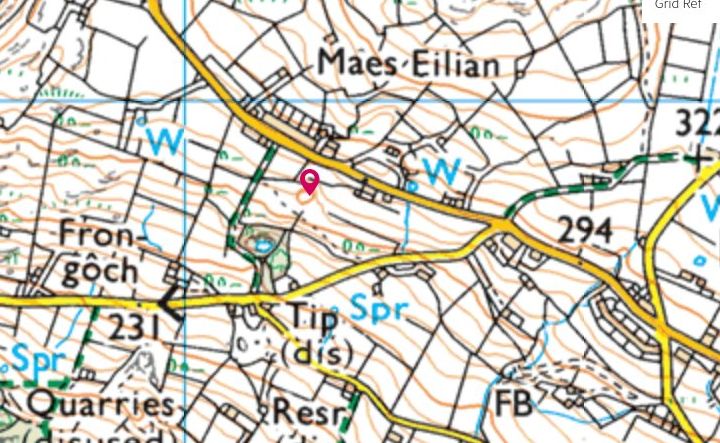 There is also an undocumented trial adit at SH58046132.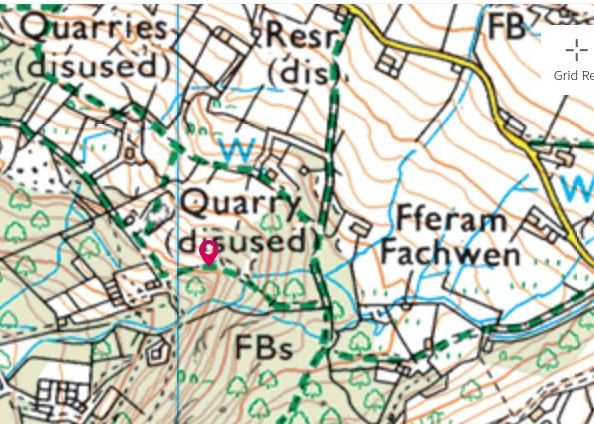 Documented history
First mention of the possibility of quarrying is in 1830 (XD2/16867), when a William Roberts of Llanwnda, applies to Lord Newborough for rights to quarry for slate. The letter implies there are no workings there at the time. A similar application is made on behalf of an Owen Michael the following year (XD2/16924). In 1832 (XD2/17096) the agent for Lord Newborough comments "I will see what can be done with the Bachwen people, though it is very probable that they will be like dogs in the manger, unable to do anything themselves, and unwilling to let anyone else" – although the context doesn't show whether this is a reference to quarry leases or tenants. Something has started by January 1834 (XD2/ 17569), which refers to rents being paid for the Bachwen Quarries, amongst others. A month later Thomas Prichard, Lord Newborough's agent, states (XD2/ 17593) "Mr Shelton is going on very well at Fachwen so far, but the prospect is not very good." 5 weeks later he comments (XD2/ 17629) that a Mr. John Roberts, who had other substantial quarrying leases on the Glynllifon estate, "was willing to take the positions at Fachwen quarry" but two days later (XD2/ 17633) Edward Shelton "also wants the whole of Fachwen " and again (XD2/ 17636) "Mr. R. could come to some agreement with Mr. Shelton about Fachwen, if he could secure a proper rent". Later that year Pritchard, "has to go to Fachwen with Mr. S to arrange how to go on with the quarries as we intend to begin them shortly". These arrangements are confirmed by the fact that the land transfer of 1840 (XD2/6620) refers to a lease taken out by Edwin Shelton from Lord Newborough in 1834 for quarrying for 21 years, XD2/19077. In the Spooner survey (DinD, Vaynol 7142) the only two quarries shown are "Shelton and Greaves", clearly the location of what was subsequently called Vaynol, and probably Fronhyfryd., but not Chwarel Isaf or the others . Since Chwarel Isaf is squarely in the way of the survey route, it seems pretty certain it did not exist then. Presumably "Isaf" refers to the fact it is slightly lower down the hillside than "Shelton and Greaves", and was started later. There were difficulties getting the slate out, and in August 1840 Shelton commented "Fachwen will only pay with a railroad connection" (XD2/19301). It looks as though he stopped work. Lord Newborough comments that "Mr. Smith's agents have ferreted out everything connected with Bachwen, and know that E.S. discontinued working the slate there". Shelton, who was in partnership with Joseph Greaves of Llechwedd fame, was most unhappy about the Vaynol takeover of the estate, even before the transfer was completed, see XD2/19070, XD2/ 19572, XD2/ 19626, XD2/ 19651 –and threatened legal action "will not hesitate to stop the railway from going through Fachwen". Eventually, once the railway is open in 1842 (XD2/ 20360) Shelton decides he "must surrender his lease of his Lordship's quarries [because of a recession in the industry]. The old quarries are gradually becoming more expensive to work and less productive" – the actual surrender is at ZDBE/3405. Thereafter any working that took place was part of the Dinorwic undertaking as a whole. It seems pretty clear from the correspondence that Shelton was in difficulty making his quarry pay, and that Thomas Ashetton Smith knew this and wanted the land mainly to enable the lakeside railway to go through. Shelton after threatening legal action for "breach of quiet enjoyment" of his lease, eventually gives in, and thereafter the quarries are worked using an incline to the lakeside railway.
Tenancies/houses
Plas or Fferam fachwen
This entry refers to the farm now buried under the (landscaped) slate tip of Domen Fawr, not the apparently later Fferam Fachwen about 100m to the west.
There are several items of correspondence in the Newborough estate papers referring to the original tenant (and it would seem sub tenant members of the family).
In 1819 it is asserted that the "tenant of Lord Newborough's farm at Fachwen exercised an exclusive right on part of the common immediately above that part which on plan is allocated to Thomas Ashetton Smith, as well as lot 138 [ie Bigil] which is allocated to Lord Newborough. He feared that the right had not been exercised for 20 years, but was done 20 years before the passing of the Act , which he hoped would enable Lord Newborough to regain his right". The significance of this, as I understand it, is that rights exercised on common land more than 20 years before its enclosure, overrode the award. By this time Thomas Assheton Smith, lord of the manor of Dinorwic (hence the name becoming attached to the quarry) and owner of the Vaynol estate, who had worked Chwarel Fawr and Allt Ddu quarries for many years, had opened up the main quarry site familiar to us today. So presumably by now Lord Newborough, like all the landowners in the area, was looking to develop slate quarries, and was hoping this assertion would help him. Issues about who profits from quarrying probably underlie most of the subsequent correspondence. Such quarrying as took place is detailed below.
In the 1851 census there are two households in the area of the present Fferam Fachwen, so one could still be the old Plas:
471
Fachwen
Griffiths
William
Head
M
59
Labourer
CAE, Llanbeblig
471
Fachwen
Griffiths
Jane
Wife
M
51
CAE, Llanbeblig
471
Fachwen
Griffiths
Jane
Daughter
U
20
CAE, Llanbeblig
471
Fachwen
Williams
Ioan
Head
M
45
Quarryman
CAE, Llanddeiniolen
471
Fachwen
Williams
Ellinor
Wife
M
43
CAE, Llanddeiniolen
471
Fachwen
Williams
Ellinor
Daughter
U
16
CAE, Llanddeiniolen
471
Fachwen
Williams
William
Son
U
13
CAE, Llanddeiniolen
471
Fachwen
Williams
Hugh
Son
U
11
Quarryman
CAE, Llanddeiniolen
471
Fachwen
Williams
Morris
Son
U
9
Quarryman
CAE, Llanddeiniolen
471
Fachwen
Williams
Ann
Daughter
U
7
CAE, Llanddeiniolen
471
Fachwen
Williams
Jane
Daughter
U
4
CAE, Llanddeiniolen
471
Fachwen
Williams
Mary
Daughter
U
4m
CAE, Llanddeiniolen
In the following years there is a record in the Glynllifon papers of disputes regarding tenants and quarrying, as detailed below
Correspondence shows that one William Morris, who died in 1841 at age 78, was under Lord Newborough's ownership the sole tenant and had lived on the estate all his life, as had also his father. Before the sale a letter from Evan William Morris (apparently the son) complains that his farmhouse is in a very decayed state, the outbuildings need rebuilding and they have nowhere to thresh what little corn he has obtained through perseverance and industry. It is stated that this house lies on the estate "on the other side of Afon Fachwen", which clearly verifies the tradition of a Plas Fachwen under Bonc Fawr. The tithe map shows the property as being down by the river, not far from the present road end. Another letter just after the sale from Hugh H Morris reminds Lord Newborough that when he applied to his Lordship to become the tenant of lands in Fachwen he [Lord N.] gave him permission to repair the house and, in the event of an alteration, was to mention this assurance. He now asks his Lordship to bring him to the notice of Mr. Assheton Smith's agent, Mr. O. Roberts,and annexes a petition (20 August 1838). At present, he and his father hold land in Fachwen under his uncle, William Morris. Owing to the pressing need of their house to be repaired or rebuilt he wishes to have the security of becoming his Lordship's tenant.
The son only remained tenant briefly after the estate was sold to Vaynol, but agreed to being transferred to Tai Isa, Pentir, much to his disadvantage he later claims. Presumably this arrangement was in pursuance of the policy of leasing plots to quarrymen. He claimed to have borne the cost of "enclosing a park" of about 100 acres "from the common", which must refer to the additional 102 acres of the enclosure award , (ie the purple line on the map) and the correspondence reflects an unsuccessful attempt to recover the cost from Lord Newborough, who asserted he had paid for the work himself.
Ty Newydd
First appears unequivocally on the Llanddeiniolen enclosure award map of 1814 (plan C), but not named: if the sketch is to be trusted it appears to be the original small cottage only. The award allocates it and the surrounding fields to Lord Newborough. There is reference to a house on this land occupied by one John Williams, which Evan Williams claimed to have bought for £33. John Williams himself wrote to Lord Newborough in 1832 about reducing the rent from £2 to £1 per year "on account of improvements he had made". The only house clearly identified in the enclosure plan (not by name) is Ty Newydd/Tyddyn Bach, so this is probably the house concerned,
It features in both the 1841 and 1851 censi. 1841 – Griffith Jones 25 quarryman, Jessie 25, Margaret 3, Anne 1, Mary Evans 14. It reappears, with the two storey and barns extensions but not the dairy, in the large book of estate plans Vaynol 4194 page 4, where the house is called Ty Newydd but the smallholding (about 4.5 acres) is described as Ty Ddyn Bach. In this plan the present access track is now shown and individual fields are named with their present boundaries. An extract from this document has been published. Most of the smallholdings in this area were made subject of new leases by the estate in 1869, but there is no record in the documents of one for Ty Newydd/Tyddyn Bach